8 Jun, 2018 20:17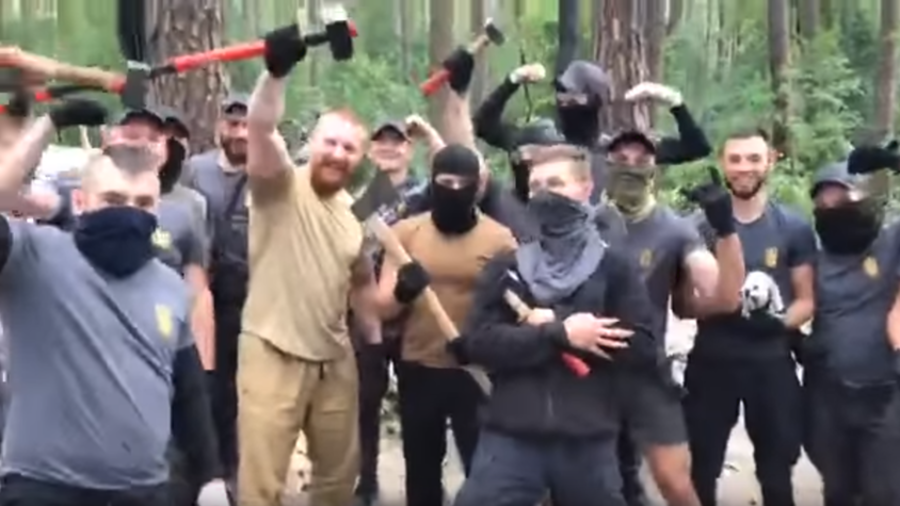 © EuroMaydan © YouTube
Members of a far-right group proudly filmed themselves destroying a Roma camp in Kiev– marking the second such attack by militant nationalists against Roma living in Ukraine's capital in the past six weeks.
The National Druzhyna, a nationalist militia formed by veterans of the far-right Azov Battalion, used axes and hammers to dismantle a small Roma camp in Kiev's Holosiyivskiy Park. The right-wing vigilantes had earlier issued an ultimatum on their Facebook page, instructing the Roma to vacate their camp within 24 hours or be forced out by a "mob."
Hours later, around 20 Druzhyna members, many sporting balaclavas, descended on the camp, wielding axes, sledgehammers and cameras to document the destruction. Footage and photos of the pogrom were uploaded to the militants' Facebook page, but they later vanished.
A 12-minute clip of the raid re-uploaded to YouTube shows the militia members mocking a woman and child fleeing with their belongings.
"I heard you eat dogs," one of the far-right goons says to them. Later in the video, a woman trying to collect belongings from the debris was harassed, with one militia member noting that her scavenging might be acceptable "in India, but not here." The militants urged the woman to "go to Hungary" when asked where else she could live.
"Look, this scum is living like this in my forest," the man filming the destruction said.
At one point in the video, a uniformed Ukrainian police officer made an appearance – and then proceeded to engage in friendly small talk with the right-wing mob. After completing their "work," several of the militia members posed together and shouted the far-right slogan: "Glory to the nation! Death to enemies!" – as Ukrainian police looked on.
Ukraine's National Police said in a statement released after the incident that they were actively investigating the case of "hooliganism." But Ukrainian law enforcement has been conspicuously unresponsive to similar attacks carried out by right-wing paramilitaries.
In February, members of the same neo-Nazi group stormed the building of the Russian international cultural agency in Kiev. They took a Russian flag from the facility, burned it and spray-painted slogans such as "Death to Russia!" and "Get out!" on the walls inside the building. Shockingly, the Ukrainian police claimed that there was "no material damage"resulting from the attack.
Ultranationalist attacks on minorities and the rule of law have become more and more commonplace in Ukraine. Last month, the World Jewish Congress (WJC) reported an "unprecedented" surge in anti-Semitic incidents.
In January, hundreds of right-wing vigilantes marched through Ukraine's capital, saying that they were ready to use force to impose "Ukrainian order." They also held a "swearing-in" ceremony in the center of Kiev, during which they vowed to "cleanse"the streets of "the rot like alcoholics and drug addicts." The police did not intervene.